Our Cancer Institute Doctors
JFK Comprehensive Cancer Institute | Medical Director Message | About Radiation Therapy | Our Doctors | Our Physicists | Our Care Team | Our Technology | Clinical Research | Breast Health Institute | Appointment Information
Georges F. Hatoum, M.D.
Dr. Georges F. Hatoum is the Medical Director of the JFK Comprehensive Cancer Institute. He obtained his medical degree with honors from the Lebanese University, Faculty of Medical Sciences. His residency was completed at the Syracuse Upstate Medical University with rotations at the University of Miami and Sloan-Kettering Cancer Center. He was then appointed as the Chief of Radiation Oncology at the Stratton VA Medical Center, Albany, NY where he carried an appointment as Assistant Professor of Medicine. Read more about Dr. Hatoum.
B-Chen Wen, M.D.
Dr. B-Chen Wen obtained his medical degree from the prestigious Kaoshiung Medical Univeristy at Southern Part of Taiwan. He completed his residency training in Radiation Oncology at University of Iowa Hospitals and Clinics, where he was later promoted to tenured professor after 10 years of academic work in research, education and clinical work. From 2000-2010, he was recruited as a tenured professor to the Sylvester Comprehensive Cancer Center, University of Miami, and had been appointed as a Medical Director of the department of Radiation Oncology at Jackson Memorial Hospital. He joined JFK Comprehensive Cancer Institute in June of 2011. Read more about Dr. Wen.
Beth-Ann Lesnikoski, M.D., F.A.C.S.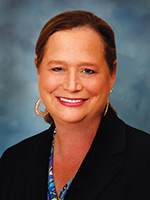 Dr. Lesnikoski is Medical Director of the Breast Institute and Cancer Liaison Physician at JFK Medical Center, in Atlantis Florida. She was an Attending Breast Surgeon at such prestigious Harvard affiliated hospitals as Beth Israel Deaconess Medical Center, Brigham and Women's Hospital, Faulkner Hospital & Dana Farber Cancer Institute in Boston for over 15 years. She was also the founding Medical Director of the South Shore Hospital Breast Care Center prior to her move to Florida in 2009. Read more about Dr. Lesnikoski.