JFK Medical Center began the first sleep center in Palm Beach County in 1989. JFK Medical Center is accredited by the American Academy of Sleep Medicine (AASM). The American Academy of Sleep Medicine has been accrediting sleep centers since 1977. Being an accredited sleep center shows JFK Medical Center Sleep Center's commitment to the highest quality care and management of sleep patients in our community. The areas that the center must demonstrate compliance to earn accreditation are:
Highly qualified Personnel
Facility and Equipment
Data Acquisition, Scoring and Reporting
Patient Evaluation and Care
Emergency Procedures
Quality Assurance
Sleep disorders affect millions of Americans, and can lead to serious physical and mental health issues. Sleep problems include sleep apnea, snoring, narcolepsy, sleep deprivation, Restless Legs Syndrome, Periodic Limb Movements, Delayed Sleep Phase Syndrome, Advanced Sleep Syndrome, insomnia and REM behavior disorder.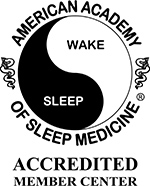 Our Services
Diagnostic Sleep Study
Involves monitoring brain wave activity, breathing, effort of breathing, oxygen levels, heart rate and rhythm, muscle movement and video monitoring. It used to help the physician diagnosis your sleep problem along with sleep history.
Sleep Study with PAP treatment
Measures the same parameters above and adds in the treatment of sleep disorder breathing with a positive airway pressure device (PAP). We have the ability to use three types of devices CPAP, BiPAP and ASV for the treatment of your sleep disorder breathing.
Unattended Sleep Studies
Is for patients with suspected moderate to severe sleep apnea only. It measures breathing, effort of breathing, oxygen levels, body position, and heart rate.
Multiple Sleep Latency Test (MSLT)
Is a series of 4 to 5 naps that measure your daytime sleepiness. We do this by monitoring your brainwave activity to see what stage of sleep you go into when given 20 minutes to fall asleep. It is done after a diagnostic sleep study.
Maintenance of Wakefulness Test (MWT)
It measures a person's ability to stay awake in the most extreme circumstance to ensure the treatment of your sleep disorder is working.
CPAP Compliance Assistance
For patients having a hard time adjusting to CPAP, they can come in during the day to work with a registered sleep technologist to work through any adjustments that need to be made.
CPAP Support Group
Meets the second Wednesday of every month October through May @ 4:30pm. To discuss the following:
Tips on how to cope with using CPAP
Exploring the effect of CPAP on the relationship with the sleeping partner
Continued education on the importance of using your CPAP
New product information & services provided by area sleep experts
A time to talk openly and discuss any issues while starting and continuing therapy
Do you think you could have a sleep disorder? Take a questionnaire to find out:
If your score indicates a possible sleep disorder, contact your physician to order a study today.
Contact Us
If you, or someone you know, has a sleep disorder or would like more information about sleep disorders, please call the Sleep Disorders Center at JFK Medical Center at (561) 548-9000. We are open Sunday through Friday nights. Get the rest you need and deserve.
5503 S. Congress Ave. Suite 102
Atlantis, FL 33462