If you think you may be experiencing a medical emergency, immediately call your doctor or 911.
About Our Emergency Department
At the JFK Medical Center Emergency Department-the largest and most experienced emergency facility in Palm Beach County seeing 95,000 ER patients each year-you can expect quality care from a highly skilled team of physicians, nurses, technicians and support personnel.
A major expansion of the Emergency Department has increased our ability to respond to your medical needs. Our Emergency Department has 34 private rooms equipped with the most advanced equipment for examining, stabilizing, treating and monitoring your condition. A 16-bed Emergency Decision Unit also is available to provide enhanced comfort and care for patients who require longer work-ups.
The JFK Medical Center Emergency Department is recognized throughout the region for its advanced life-support capabilities. We're a Certified Stroke Center, Certified Chest Pain Center and one of only three hospitals in the county designated as a Cardiac Alert Receiving Facility.
The Stroke Center
The Stroke Center at JFK Medical Center is one of only three facilities in Palm Beach County to receive certification by the Joint Commission on Accreditation of Healthcare Organizations (JCAHO) as an accredited Stroke Center. The program follows guidelines set forth by the American Stroke Association and the JCAHO. JFK Medical Center has developed and implemented innovative approaches to advance acute treatment, recovery and rehabilitation for stroke patients in accordance with evidence-based practice.
The interdisciplinary approach for stroke care includes an expert team of emergency medicine personnel, nurses, laboratory staff, neurologists, neurosurgeons and radiologists, who have all received special training as a stroke care team. We also have an interventional neuroradiologist-the only one in Palm Beach County-who performs a procedure within blood vessels to deliver tPA (a clotbusting drug) to a specific part of the brain, increasing the time in which stroke patients can be effectively treated.
Also performed by our neurointerventional radiologist at JFK Medical Center is the an advanced clot-retrieval procedures.
Accredited Chest Pain Center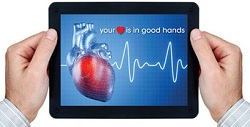 The Chest Pain Center is the first in Palm Beach County to receive full accreditation by the Society of Chest Pain Centers. The goal of the Society of Chest Pain Centers is to significantly reduce the mortality rate of patients with chest pain by teaching the public to recognize and react to early symptoms of a possible heart attack, reducing the time it takes to receive treatment and increasing accuracy and effectiveness of treatment. The Chest Pain Center at JFK Medical Center has demonstrated expertise and commitment to quality patient care by meeting or exceeding a wide range of criteria and completing on-site evaluations by a review team from the Society of Chest Pain Centers.
Heart disease causes approximately 1 of every 4 deaths in the U.S.
About 50% of sudden cardiac deaths occur outside a hospital. This suggests that many people don't act on early warning signs.
Survey results show that only 27% of the respondents were aware of all major symptoms and knew to call 9-1-1.
EHAC
Encourages early recognition when symptoms are mild. For the 50% of people experiencing these symptoms, the heart attack can be prevented with early treatment – before damage to the heart can occur. HEART attacks have beginnings!! Symptoms can begin 2 weeks before a major event. 85% of heart damage occurs within the first 2 hours of a blockage. Heart attacks deaths kill 800,000 people per year in the U.S. but with your help that number can be cut in half. Know the signs and symptoms. Call 9-1-1.
Early Signs & Symptoms
People may or may not experience any or all of these symptoms. These symptoms may come and go until becoming constant and severe: One may experience mild chest symptoms, such as pressure, burning, aching, or tightness. One can also experience Nausea, feeling of fullness, shortness of breath, back pain, chest pressure, squeezing, or discomfort, anxiety, fatigue, jaw pain, pain that travels down one or both arms.
If you experience these symptoms: DON'T DRIVE, CALL 9-1-1. Your action could save a live.