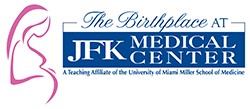 The Birthplace at JFK Medical Center
Delivering Life's Little Miracles.
Providing family-centered maternity care, with the patient's needs in mind, our private birthing and post-partum suites are each designed to create a warm and comfortable environment, while encompassing the latest in technology and equipment.
The Birthplace at JFK Medical Center is a family-focused environment, committed to providing new Moms and their babies with the best team, the best care and the best outcomes. We are dedicated to creating personalized treatment plans that meet the specific needs of each of our patients.
We look forward to sharing this most joyful moment – the birth of your newborn – with you!
Download our Maternity Guide - English
Download our Maternity Guide - Spanish