As the first medical facility in Palm Beach County to offer advanced Robotic Surgery capabilities, JFK Medical Center is now working with our third-generation robot to perform robotics for urological, gynecological and general surgical procedures.
What is Robotic Surgery?
Robotics uses precise, versatile instrument movement combined with three-dimensional visualization of the operative site. Robotic surgery typically yields less physical and emotional impact than traditional surgery. During surgery, the surgeon is able to have a much better anatomical view of the patient, which puts the patient at less risk.
Robotic surgeries are performed through small incisions, which replace the large incisions needed for conventional open surgeries. Many of the patients who undergo Robotic Surgery typically experience less pain and are able to leave the hospital sooner. Other patient benefits include minimal scarring, less blood loss, faster recovery, less trauma and shorter hospital stays.
For more information about Robotics and Robotic Surgery technology, visit intuitivesurgical.com.
Urology
Surgeons all over the world, including those at JFK Medical Center, are using the da Vinci® Surgical System for prostatectomy and other urologic procedures. This minimally invasive approach, utilizing the latest in surgical and robotics technologies, is ideal for delicate urologic surgery. The urologic conditions treated include prostate cancer, bladder and kidney cancer, Vesicoureteral reflux and Ureteropelvic Junction (UPJ) obstruction.
Gynecology
Traditional gynecologic surgery uses a large incision, which may cause significant pain, trauma, and require a long recovery period. Robotic surgery remains a less invasive, more effective treatment for a range of conditions, including cervical and uterine cancer, uterine fibroids, endometriosis, uterine prolapse, and menorrhagia.
Less Invasive
The da Vinci® Surgical System is the most effective treatment option for complex hysterectomies and other gynecologic procedures. This less-invasive technique uses small, 1-2 cm incisions, and allows surgeons to operate with greater precision and control. Gynecologic procedures performed with the da Vinci®Surgical System include Hysterectomy, Myomectomy and Sacrocolpopexy.
General Surgery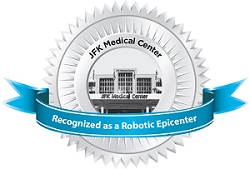 JFK Memorial Center has two robotically-trained key opinion leaders in general surgery, Dr. Kaza and Dr. Shasha. They are recognized as pioneers in the area of robotic general surgery and have done numerous robotic cases. The doctors often host visiting surgeons from all over the country to observe their live cases.
JFK Medical Center has been designated as a Robotic Epi-Center for General Surgery. We are one of only two programs in the state of Florida and eight in the country. The Epicenter designation is given to the most advanced and experienced robotic surgeons and hospitals who demonstrate the superior outcomes and a passion for teaching. As an Epicenter, JFK acts as a training ground for surgeons across the U.S. to observe and train in robotic surgery.
Benefits of Minimally Invasive Surgery
Minimally invasive surgery allows physicians to perform many types of surgical procedures through 1-2 cm incisions. For most patients, a minimally invasive approach offers substantially less pain, less blood loss and a much shorter recovery. Other advantages include reduced need for blood transfusions, minimal scarring, less risk of infection, shorter hospital stays and faster return to everyday activities.
Learn More: