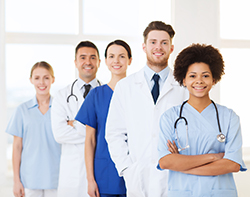 JFK Medical Center's Podiatric Residency Program adheres to the standards and practices for their resident selection via the Central Application Service for Podiatric Residences (CASPR/CRIP).
Upon matching to our program, applicants must go through JFK Medical Center's employee hiring process, which includes passing a background check, drug test and completing all of the on-boarding requirements. Below is a sample of the contract that match candidates will receive. Resident Contract is subject to change.
If you have any questions, please contact Adriana Ellison, MBA Program Manager at (561) 548-1711.
Sample Resident Contract:
We are pleased to provide the letter of appointment to you for the position of Podiatry Medicine and Surgery Residency with Reconstructive Rearfoot / Ankle Surgery Resident (PMSR) at JFK Medical Center for a period of one (1) year (year one of three year program) effective July 1, 20XX (contingent upon successful completion of all pre-employment processing). Following the terms and conditions of this agreement:
Annual salary of $ XX,XXX
Job duties as outlined in your job description
Hours of work – will vary as scheduled
JFK Medical Center will provide the following fringe benefits:

2 lab jackets
Meals provided on campus
Paid time off (PTO)
Standard employee benefits as offered to other benefited employees of JFK Medical Center (health & dental insurance, life insurance)
Payment of dues for membership in the American Podiatric Medical Association and the American College of Foot and Ankle
Payment of NBPME fees for resident completing 1st year of the
Educational Allowance of $1,500 each academic year for approved educational expenses.

-Laptop/tablet one per year

-Medical instruments

-Books

-Memberships

-Medical License Reimbursement /DEA License Reimbursement

-Conference expenses and related travel expenses

-Interview expenses to include airfare, meals, lodging, mileage

-ABPS Certification Examinations

A certificate/diploma verifying completion of training requirements and the inclusive
Professional liability insurance coverage

Mechanism of Appeal – as per the Performance Review and Termination Policy in the Podiatric Residency Manual.