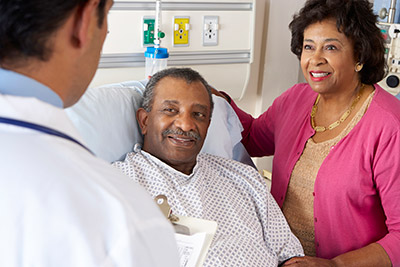 Advanced Heart Care Center - Treating Heart Failure
Our Advanced Heart Care Center has an experienced team of professionals who are specialized in advanced heart failure management. Our physicians will partner with your current cardiologist or primary care physician to give you only the best care and improve your quality of life.
The following therapies are available:
Ventricular Assist Devices (VAD)
Pulmonary Artery Pressure Monitoring
Ultrafiltration
Cardiac Resynchronization Therapy (CRT)
Diuretic Infusions in a comfortable clinic setting
Medication Management
Home Inotropic Infusion Therapy
Heart failure is a chronic, progressive condition that develops when the heart muscle weakens and is unable to pump a sufficient amount of blood throughout the body. More than 600,000 Americans are living with heart failure and is a frequent cause for hospitalizations. Heart failure worsens over time and is typically caused by persistent high blood pressure, heart attack, valve disease and other forms of heart disease or birth defects. Left untreated, the lack of adequate blood flow causes the organs to progressively fail, resulting in numerous medical complications that deteriorate a person's quality of life.
What are signs of heart failure?
Shortness of breath, especially when lying down
Fatigue
Coughing and wheezing
Swelling in the feet, ankles and legs
Weight gain from fluid buildup
Mechanical Circulatory Support Program
JFK Medical Center offers long term left ventricular assist devices (LVADs). The Mechanical Circulatory Support Program at JFK Medical Center has a multidisciplinary team of expert cardiologists, cardiovascular surgeons, nurse practitioners and program coordinators dedicated to helping advanced heart failure patients.
What is a left ventricular assist device (LVAD)?
A left ventricular assist device is a mechanical device that circulates blood through the body when the heart is too weak to pump blood adequately on its own. It is designed to supplement the pumping function of the heart. It is surgically attached to the left ventricle and to the aorta, the main artery that carries oxygenated blood from the left ventricle to the entire body. An external, wearable system that includes a small controller and two batteries is attached by an external driveline. The wearable system is either worn under or on top of clothing.
The type of LVAD used at JFK Medical Center is a continuous flow, implantable pump. The LVAD is surgically implanted with one end directly placed in the left side of the heart and the other end connected to the aorta (large blood vessel that is attached to the heart). It is then attached to a driveline, which is tunneled through the abdomen and exits through the abdominal wall. This driveline attaches to a controller and is powered by either AC adaption or batteries.
Patients suffering with advanced heart failure who have exhausted medical therapies may be candidates to receive an LVAD. This therapy is recommended by the American Association of Cardiology and the American Heart Association as a treatment option for advanced heart failure. Studies have shown that patients treated with an LVAD can live longer and enjoy an improved quality of life compared to medication management alone.
JFK Medical Center's Mechanical Circulatory Support Program will determine if you are a candidate for this therapy after an extensive evaluation process of laboratory and diagnostic tests. A team of nurses, physicians, nurse practitioners, social workers, palliative care team, nutritionist, and financial advisors will meet to review the results and determine if you meet criteria for this therapy. The LVAD used at JFK Medical Center is FDA approved for advanced heart failure patients. Not everyone with advanced heart failure is a good candidate for this treatment.
The LVAD is designed to restore blood flow throughout the body, enabling you to breathe more easily and have more energy. An LVAD can significantly reduce heart failure symptoms and improve your quality of life. You should be able to resume normal activities that you were unable to do prior to receiving the device.
LVADs can be used for three specific purposes:
As a bridge to recovery: An LVAD can be used to support a patient that is experiencing heart failure that may reverse itself after temporary support, such as viral infections and post-partum heart disease, amongst others.
As a bridge to transplant: An LVAD can be used to support a patient until a donor heart becomes available.
As destination therapy: An LVAD can be implanted permanently for long-term therapy in patients with severe heart failure who are not candidates for heart transplantation.