The Bariatric Wellness and Surgical Institute at JFK Medical Center is dedicated to helping patients achieve their weight loss and health goals through a multidisciplinary approach to morbid obesity. With comprehensive programs, including everything from Wellness Services for medical weight loss to surgical procedures, we provide thoughtful, patient-focused care for each individual.
Program Overview
We provide a multi-disciplinary approach to the treatment of morbid obesity. From nutritional services for medical weight loss to surgical weight loss procedures, our program offers the most effective options for weight management.
The comprehensive wellness program provides advanced surgical weight loss options combined with extensive nutritional and psychological support pre and post-operatively. This multi-disciplinary team approach is unique in that you will be seen by a nutritionist and psychologist specializing in bariatrics at each of your post-op visits. We believe this to be vital in helping you to achieve and maintain your weight and wellness goals.
Self-Pay Pricing
In an effort to make Bariatric Surgery accessible to our patients, we offer affordable self-pay pricing for those who do not qualify for coverage from their health insurance plans. Please inquire for more information.
Services
---
Our bariatric surgeons provide several options of surgical weight loss procedures including Laparoscopic Sleeve Gastrectomy, Laparoscopic Gastric Bypass, Revisions of prior weight loss surgeries and Laparoscopic Gastric Banding.
In addition to medical expertise, our staff is experienced and able to provide guidance regarding insurance benefits, coverage criteria and authorizations for bariatric procedures.
Post-Operative Support
Our post-operative care focuses on healthy lifestyle changes and providing the support required during your weight loss journey. In addition to seeing a nutritionist and psychologist at each post-op visit, we offer monthly support groups where you can find guidance and peer support. Exercise Therapy is also available.
Information Sessions
With the help of our Bariatric experts, life-changing weight loss is possible. If your weight is keeping you from enjoying life to the fullest, bariatric surgery may be an option. You'll be happy to know that our Bariatric program is one of the only fully accredited programs in Palm Beach County. To learn more about minimally invasive surgical options, attend one of our weekly information sessions.
1st and 3rd Tuesday at 8:30am.
2nd and 4th Wednesday at 3:30pm.
RSVP required. Please call 561-548-4JFK (4535) to register.
Classes are held at the Bariatric Wellness & Sugical Institute
4665 S. Congress Ave., Suite 102
Lake Worth, FL 33462
Accreditation
---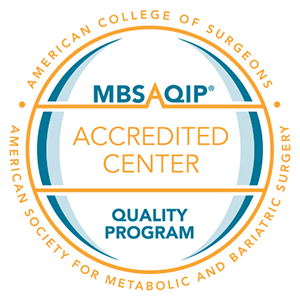 The Bariatric Wellness and Surgical Institute at JFK Medical Center affords you the highest standards of patient care and advanced support available in the bariatric field today. JFK is an accredited center by the American Society for Metabolic and Bariatric Surgery (ASMBS) and able to provide comprehensive bariatric services to qualified Medicare patients and for private payers that require bariatric services be provided at a designated COE.
Contact Us
The form was successfully sent.
There was an error with the form submission.