At The Orthopedic Institute at JFK Medical Center, we take a leading-edge, comprehensive approach to the evaluation, treatment and rehabilitation of musculoskeletal injuries.
Our full-service approach, which integrates your primary care physician and surgeon with a host of clinical support staff, is designed to return you to maximum function as quickly and safely as possible. This integrated approach enables our clinical team to properly evaluate your condition and prepare you mentally and physically for the procedure by continuously monitoring and managing the entire pre- and post-surgical performance and progress. This unique continuum of care approach produces outstanding clinical and patient satisfaction results.
We combine extensive education about prevention of injuries and disease through lectures and educational sessions, as well as preoperative care. Our highly trained team of surgeons, nurses, physician assistants, rehabilitation specialists and medical support personnel works with you and your primary care physician to develop a customized treatment plan. Should you need surgery, you can be confident you'll receive the most advanced surgical procedures using the latest technologies.
National Recognition
Blue Distinction Center for Knee & Hip Replacement
---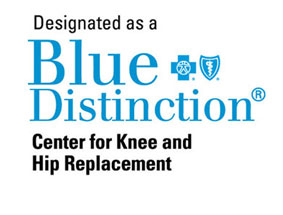 The orthopedic team is nationally recognized, including being designated by Blue Cross Blue Shield of Florida as a Blue Distinction Center for Knee and Hip Replacement.