---
COVID-19 and Pregnancy - An Update for our Patients
We would like to take this opportunity to update you about your maternity care during the coronavirus (COVID-19) pandemic, and reassure you that our dedicated team of expert nurses, physicians and midwives are committed to providing safe and effective care to every patient who walks through our doors.
Read the full letter to our patients
Birthing center in West Palm Beach, Florida
The Birthplace at JFK Medical Center provides expectant parents and their babies with the best team, best care and best outcomes. We create personalized treatment plans that meet the individualized needs of each and every one of our patients.
To preregister for your delivery at The Birthplace, call us at (877) 351-7006.
The experienced OB/GYNs and highly trained staff in our birthing center are committed to providing family-centered maternity care, keeping our patients' needs in mind every step of the way. We offer private birthing and postpartum suites that are designed to create a warm, comfortable environment while incorporating the latest in technology and equipment.
Virtual Tour
Above is a 360° panoramic virtual tour of our facilities. Click and drag the image with a mouse or navigate the tour with a keyboard use the following keys.
Pan left - Use the left arrow key to pan left
Pan right - Use the right arrow key to pan right
Pan up - Use the up arrow key to pan up
Pan down - Use the down arrow key to pan down
Fullscreen - Use the "f" key to view fullscreen
Exit fullscreen - Use the "f" key to exit fullscreen
Rotate panorama - Use the "r" key to start or stop autorotation
Toolbar - Use "t" key to hide/show toolbar
Zoom In - Use "a" or "+" keys to zoom in
Zoom Out - Use "z" or "-" keys to zoom out
Next panorama - Use "n" or page down key
Previous panorama - Use "p" or page up key
Screen reader users can use the Tab key to access alternative text for each scene within the virtual tour. Use Shift + Tab keys to return interactivity to the tour.
Complete childbirth care
At The Birthplace, we have put extensive thought into what makes a safe, comfortable labor and delivery experience. When you choose JFK Medical Center for your baby's birth, you have access to:
Flexibility in labor choices
Personalized and compassionate care
Obstetrics hospitalist team
Highly trained physician laborist
24/7 pain management coverage
Two on-site operating rooms for scheduled or unscheduled cesarean sections
Advanced infant security system (The Birthplace is a locked obstetrics unit)
Focused postpartum care, including professional breastfeeding assistance
Neonatal hospitalist team consisting of a neonatologist and/or a neonatal nurse practitioner
Highly skilled nursing staff with certifications in electronic fetal monitoring, neonatal resuscitation, advanced cardiac life support and S.T.A.B.L.E.
Flexible visiting hours
Labor and delivery suites
Our maternity hospital's labor and delivery suites provide a warm, inviting and private environment where you, your little one and your family can relax and bond in comfort with the assurance of safety and security. The suites at The Birthplace include:
A guest bed
Refrigerator
A flat screen TV
Internet and WiFi access
If a C-section is deemed necessary, our state-of-the-art C-section and recovery rooms are located adjacent to the birthing suites.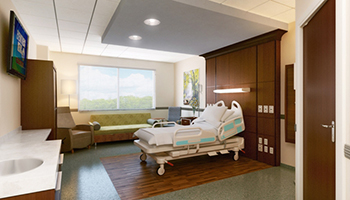 Expectant mother preparation and information
It can be an overwhelming task to think of all the things you need to do before your baby arrives. When you choose The Birthplace at JFK Medical Center, you have access to our team of labor and delivery experts who will walk you through every step of the process, from preparing your hospital overnight bag to admissions and discharge.
Preregister for labor and delivery
By preregistering for childbirth you are expediting your admissions process on your delivery day and will get a better understanding of the financial responsibilities associated with your hospital stay.
There are three ways to preregister with The Birthplace at JFK Medical Center, including:
Preregister by phone at (877) 351-7006. This phone line is open for preregistration Mon - Fri: 8:30am - 5:30pm.
Preregister in person at our admissions office, which is open Mon - Fri: 7am - 6:30pm. Be sure to bring your driver's license (or an alternate picture identification) and your insurance card.
Consider your pain management options
You can discuss your pain management options with your OB/GYN. No matter which method you decide upon, our anesthesia and pain management services are available 24/7 during your hospital stay and include the use of epidurals. (There is no need to preregister for an epidural.)
Select a pediatrician
During your hospital stay after you give birth, your baby's care will be provided by our nursery staff under the direction of a neonatologist or neonatal nurse practitioner. Please choose a pediatrician for your child's subsequent healthcare in advance of your due date.
Preparing for delivery
Because babies have a timetable of their own, we suggest you have an overnight bag packed and ready to go well in advance of your due date. Some of the items you may want to bring with you to The Birthplace include:
Nightgowns, underwear and nursing bras (if you plan to breastfeed)
Comfortable robe and slippers
Any personal items
Toiletries and cosmetics
A comfortable going home outfit for you and your baby
Important phone numbers and information such as your Social Security number
An infant approved car seat
Coming to The Birthplace for delivery
When you think you are in labor or your water breaks, call your obstetrician or OB/GYN immediately. They will notify The Birthplace so we can begin preparing for your arrival.
When you arrive at The Birthplace, you may use the Rothman Entrance—open Mon -Fri: 6am - 8pm—or the emergency room (ER) entrance if you arrive outside those hours.
The Birthplace is located on the third floor of JFK Medical Center. Upon your arrival, our staff will greet you and escort you to a suite where your labor status will be evaluated. We recommend discussing with your obstetrician in advance who you would like present during your delivery. During labor, other family and friends are welcome to wait in our comfortable waiting area.
Visitors during labor and delivery
The Birthplace at JFK Medical Center provides a safe, nurturing environment for laboring mothers and promotes a family-centered birth experience. During labor and delivery, we ask that visitors respect the following rules:
Laboring mothers may designate three support people to be by their side during childbirth. This number includes the father of the baby or a significant other.
Support people may not switch out with other visitors.
All visitors who are not designated support persons are identified by a member of our nursing staff. Once patients are transferred to our postpartum unit, all visitors will follow our postpartum visiting policies.
Children, including siblings, are not permitted in the labor and delivery rooms.
Support persons may be asked to leave during procedures or examinations.
The hospital reserves the right to request any visitor to leave the hospital premises.
No videotaping, audio recording or photography is allowed in the labor room during delivery.
The Birthplace: frequently asked questions
The following are questions that we commonly receive from expectant mothers and their support team. You may also call us at (877) 351-7006 and we will be happy to help answer your questions.
Will I stay in the same room for my entire stay?
The Birthplace suite is where you will labor, deliver and spend a one- to two-hour recovery period. You will then be transferred to our mother/baby suites for the rest of your postpartum stay.
How many people can I have with me during delivery?
You are allowed to have three support people with you for your labor and delivery. If you have a C-section, you are allowed to have one support person with you in the operating room.
Are my children allowed to stay?
Children are not allowed in The Birthplace room during labor, unless they are 13 years old or older and are designated labor support people. If the child is less than 12 years old, an adult must be present in the waiting room to be responsible for the child.
Healthy siblings of the new baby will be allowed to briefly visit in The Birthplace room after delivery. They are also allowed to visit during visiting hours in the mother/baby suites, but may not spend the night.
Labor and delivery locations
Retrieving location data...